Renewable, Clean-Burning and Cost Stable Home Heating Alternative
About Pellet Fuel
Pellet fuel is a renewable, clean-burning home heating alternative. Pellets are classified as "densified biomass fuel" and are made of renewable substances–generally recycled wood waste. There are approximately 1,000,000 homes in the U.S. using wood pellets for heat, in freestanding stoves, fireplace inserts, furnaces and boilers. Pellet fuel for heating can also be found in such large-scale environments as schools and prisons.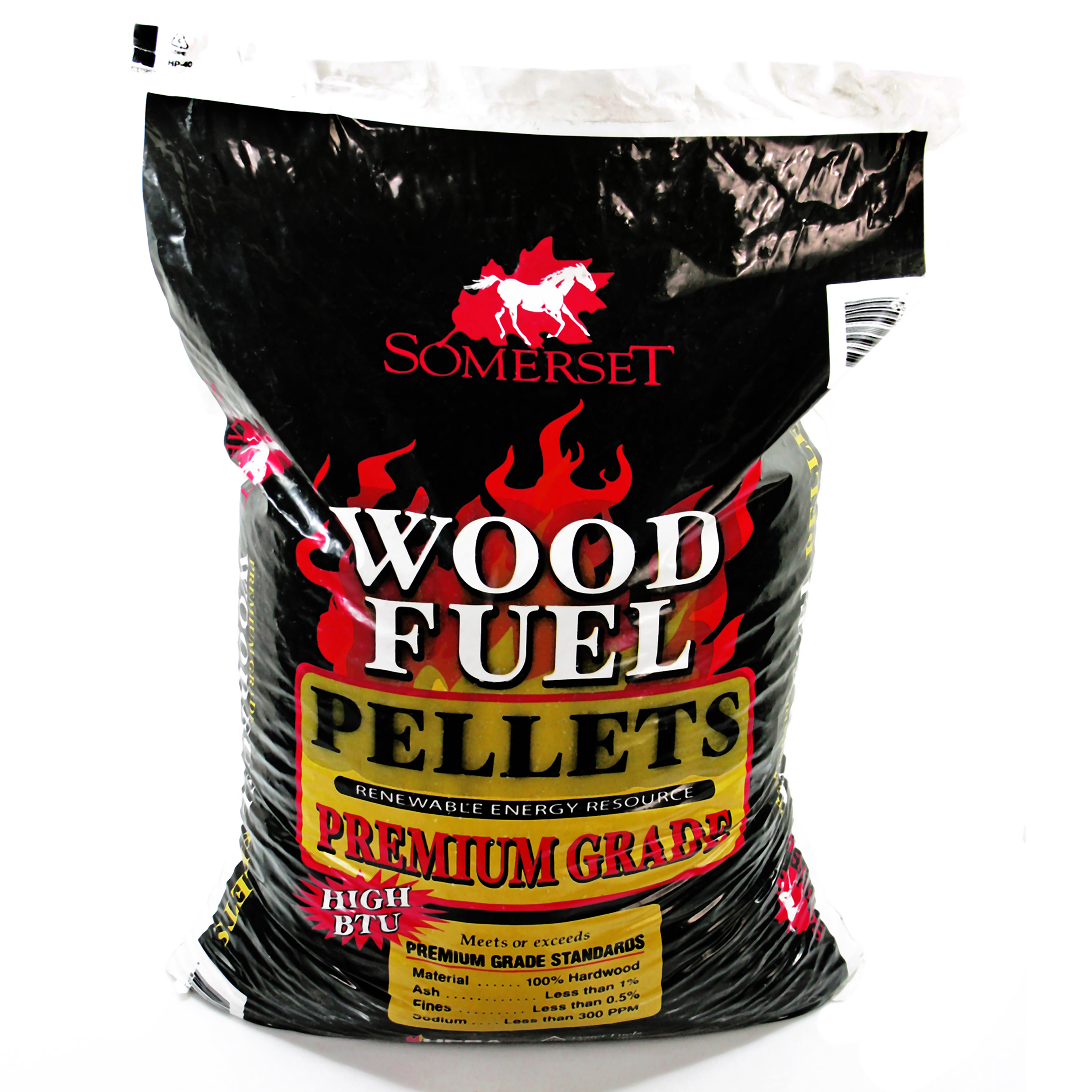 Our Pellets
The excess wood fiber and sawdust collected throughout Merrick Hardwoods' flooring and lumber manufacturing process supplies our Wood Pellet Fuel division. Here, we produce premium grade clean-burning wood fuel pellets. More than 50,000 tons of wood fiber and sawdust are generated each year, instead of going to a landfill, we produce an economical and environmentally-friendly alternative energy source. This, in turn, helps decrease our country's dependence on fossil fuels. Somerset brand pellets are sold across the U.S. through major pellet distributors and retailers for use in pellet stoves.
Technical Information
Premium Grade
100% Hardwoods
Less than 1% Ash
Less than 0.5% Fines
Less than 300 PPM of Sodium
High BTU
Packaging Data
50 Bags per pallet
Bag Weight: 40 Lbs. (18.14 kg)
Pallet Weight: 1 Ton
Truckload: Depending on the truck, a truckload will be between 20 and 22 pallets (40,000-44,000 lbs)
Why Pellet Fuel
Benefits of Pellet Fuel
There are numerous benefits achieved by utilizing pellet fuel—both economical and environmental.
Using pellet fuel reduces dependence on foreign oil
Pellet fuel can be a cost-effective alternative to fuel oil and propane
Pellets are energy efficient (pellet stoves are 80-90% efficient)
Pellets provide a clean-burning source of energy
Because of their compact size/shape, pellets are easier to transport and store than firewood
Wood pellets are a renewable energy source
Benefits of Pellet Fuel
PFI Standards Program
The PFI Standards Program is the most respected of the pellet fuel standards programs, and the Quality Mark (shown below) is steadily becoming a recognized symbol that consumers look for to identify PFI Graded Fuel.
Provides a Registration Number, which identifies a manufacturing facility
Displayed on the front lower third of the bag
The material type must be stated
Higher heating valued stated as received and must reflect a minimum BTU guarantee
Manufacturers may provide other guarantees in the bottom portion of the mark as long as their claims are demonstrated through audit (e.g. Ash Content As-Rec: <0.50%)
To learn more about the significance of this mark, please
click here
.